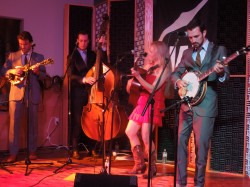 Headed out from Nashville after Billy Block show for a jam-packed tour–7 shows in 3 days! First stop was Richmond, where we visited 2 schools and performed a concert at In Your Ear Studios for JAMinc. This was an awesome, intimate downtown studio, where our crowd was full of 'grass lovers. Thanks to Tim Timberlake & Wally Thulin for making this happen! St. Christopher's School was so kind to us, and nothing beats a crowd of Mary Munford kids!
Next stop was Washington, D.C. We had the distinct honor of being the first-ever band in WAMU's brand new studio! Lee Michael Demsey did an awesome job interviewing us for "Bluegrass Country," and the staff at WAMU couldn't have been nicer. (Thanks for pic, Katy Daley!)
Later that evening we performed our fave concert of the tour: Corner Store, hosted by Kris & Roy Swanson. If you haven't been there yet, please check it out. An historic venue with fantastic vibes and a deliciously happy crowd.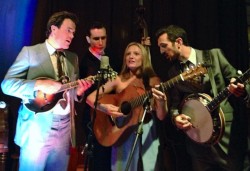 Really enjoyed our late-night trip back into the mountains of Southwest Virginia. We woke up much too early in Staunton and trucked on to Marion, where we soundchecked at Lincoln Theater, and then moved on to Abingdon, where we got to see Frank Solivan tear it up before our set at Crooked Road Music Fest. Post-set, we lay on the grass and enjoyed Blue Highway before heading back to Marion for our set on the PBS-syndicated "Song of the Mountains" TV Series.